Invented for You: The Next Evolution of the Bosch Dishwasher Family
written by Graham Sadtler March 2, 2017
If you're familiar with Bosch, and the remarkable Bosch dishwasher, you've likely heard our mantra of "Invented for Life." And, if you've read some of my other blog posts on A Modern Haven, you will remember that these words inspire us to deliver appliances that help simplify life for you, our esteemed Bosch owners.
As the Director of Industrial Design at Bosch, I see firsthand how the concept of "Invented for Life" can inspire our team to keep dreaming of, and creating, simple innovations that offer profound benefits. In fact, many of our product innovations are inspired by how you live your daily life in the kitchen. Take for example, the unsung hero of the kitchen, the dishwasher.
It's safe to say that a clean kitchen, with your favorite plates and silverware pristinely cleaned and carefully tucked away in your cabinetry, brings a sense of calmness, and serenity, to the hustle and bustle of daily life. Whether you're a newlywed exploring your culinary skills together, a parent with a hungry family to feed, or even a bachelor inviting friends over to watch a big sports game, we all rely heavily on our dishwashers to keep our kitchens tidy.
But, while we might see the dishwasher as the key to kitchen happiness, no two people—and no two dishwasher loads—are ever the same. So, when it comes to loading the dishwasher, shouldn't your dishwasher be flexible enough to meet your personal needs?
For more than a decade, you've known Bosch as the quietest dishwasher brand in North America.* And while we are honored to achieve this accomplishment, our relentless pursuit of helping consumers means that we never rest on our laurels. Inspired by our desire to simplify life in the kitchen, we took cues directly from you, the end user, spending countless hours researching and learning insights that would help us to develop a new dishwasher line that is truly inspired by and invented for you.
Through our continued consumer research, we know that cleaning results, quiet, flexibility, quality and ease of use are some of the most sought after factors consumers consider when selecting a dishwasher for their home. The new Bosch dishwasher line was designed to expand upon our rich heritage in the dishwasher space, and our team of industrial designers, engineers and factory workers are excited to offer you a newly imagined Bosch dishwasher line.
Here's a glimpse into our research, and how these findings came to life in our most exciting dishwasher line yet.
Load it Your Way The one insight that became very clear as we studied how consumers interact with their dishwasher is that loading the dishwasher is a very personal process. We hear it all too often—while my spouse might like to load their dishwasher their way, I like to load the dishwasher my way. Enter the new MyWay rack.
If you're familiar with the Bosch approach to design, you will remember that the phrase "form and function" is incredibly important to our methodology. A great example of this can be seen in our new MyWay rack. Through efficient, purposeful design, the new MyWay rack adds space to the top of the dishwasher without removing space from other parts of the cavity. While the end result might allow us to offer the industry's largest third rack, we are also proud of the fact that this innovation offers you more room to load your dishes. After all, if design does not make your life easier, what purpose does it really offer?
In short, the MyWay rack provides a designated space for hard to fit items, like cereal bowls, spatulas or whisks. By placing these items in the new MyWay rack, we've now opened up more space throughout the remainder of the dishwasher cavity, allowing you to get the most out of your dishwasher.
An added bonus? The third rack is perfectly angled so that you can accommodate stemware on the middle rack. So go ahead, pour yourself a glass of wine—we've got you covered when it comes to the cleanup.
Flexibility Designed for You As part of our research into how Americans load their dishwashers, we also learned that consumers often feel that the tines on the lower rack of their dishwasher are too close together. The positioning of the tines makes it hard to load larger items such as pots, pans, serving dishes and bowls, often leading to an inefficient use of space, or, worse, hand washing the dishes that don't fit.
This finding is the inspiration behind our new adjustable FlexSpace Tines. These adjustable tines will help you to make room for these larger items by allowing you to fold back every other tine in one simple step. Making more efficient use of your lower rack space can not only make kitchen cleanup that much easier, but also, it just might be the motivation you need to try out that new healthy recipe you've been eying.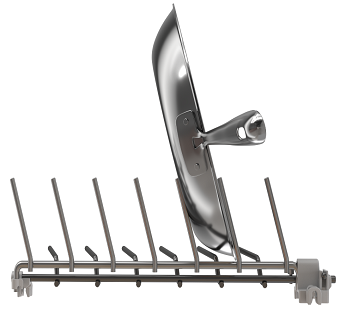 Unparalleled Ease Another common challenge we learned is that while we all find tremendous value in our dishwashers, sometimes, loading and unloading the dishwasher is a laborious chore. The most common source of loading frustration? Stubborn racks and off-track sliding systems that are difficult to operate. To us, neither scenario is acceptable, which is why our team sought to create our new EasyGlide Wheels.
The new EasyGlide system simplifies loading and unloading the dishwasher by using ball bearing wheels to provide a smooth glide in the racks. This system requires less force to operate, making it easier to control fully loaded racks. They say "the devil is in the details," but it is this tiny detail that will help make kitchen cleanup that much easier.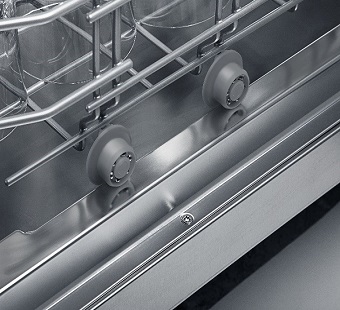 Perfect Results in Less Time In speaking with thousands of Americans, we've learned that across the dishwasher category, the time it takes to complete a dishwasher load from start to finish is top of mind.
Whether they're hosting friends for dinner and need to run a quick wash to replenish the dishes, or simply wish to complete their household chores so they can move on to family time, consumers continue to desire the ability to quickly wash and dry a load of dishes. As time becomes more and more valuable, the new Speed60 cycle transforms lightly soiled dishes from dirty to dry in about 60 minutes. The Bosch dishwasher relies on sensors to detect the soil level and adjust cleaning settings to ensure perfect results, fast, making the most efficient use of water along the way.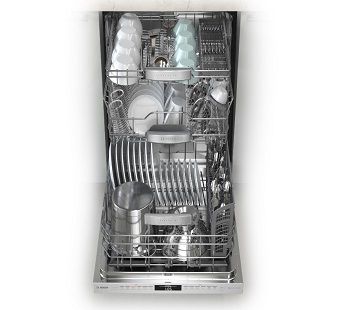 Simple, flexible, easy to use. As you can see, the entire Bosch family is so proud of our new dishwasher line.  After reading about our new dishwashers, what of these new features would help to make your life in the kitchen easier?